Lessons From A Lost Fantasy Football Season: #1 Avoid Running Backs Early
Another fantasy season is in the books, and with it, a myriad of lessons for the serious fantasy football player, whether you take these lessons to heart likely will determine to what degree you have an advantage over your opponents, or whether you are at a disadvantage against them. Just what lessons can put us at an advantage going forward?
#1 Figuring out how to utilize the bottom falling out of the RB/RB strategy to your advantage.
In what was the worst season ever for RB's only seven tailbacks were able to top 1,000 yards, and only 2 were able to top Todd Gurley's 1106 in 13 games, compare that to a decade ago when 16 starters (half the league's starting rb's) topped 1000, and 13 topped Todd Gurley's total and you can see the immense issue. So what would be the wisest angle when it comes to addressing RB? Well, as you may recall, four months ago I suggested eschewing RB's in round 1 unless you picked at the top of round 1 where Bell, Peterson, and Charles all were worth the slot value but afterwards, guys like Gronk, Brown, Jones and Lynch (can't win them all) would make more sense based on value and less liklihood of busting. This year was far more catastrophic than I could ever have predicted, it had been my experience that top 10 RB's tended to fail at a rate of about 40-50% year in and year out to equal slot value, whereas WR's tended to reach or exceed value at a vastly higher rate (and this year the same truth was in place. Lets take a quick look at the respective top 10's in August, versus how it actually played out.
August 2015 Top 10 RB's:
1.A.P. (2) Devonta Freeman-44th
2. Lev Bell (47) A.P.-1st
3. J. Charles (49) DeAngelo Williams-44th
4. E. Lacy (29) Danny Woodhead-45th
5. M. Lynch (56) Lamar Miller-12th
6. M. Forte (12)  Doug Martin-29th
7. CJ Anderson (36) Todd Gurley-24th
8.D. Murray (16) Mark Ingram-13th
9. J. Hill (22) David Johnson-53rd
10. L. McCoy (14) Chris Ivory-26th
As you can see the bottom fell out of the RB position this year, and owners who wished to target running backs between rounds 10-13 were more likely to land a top 10 RB than owners that used their first and second rounders on them. Is there any further evidence needed about why to pass on RB's early? When you add in the shifts that have happened over the past decade regarding which teams use bell clows and which don't (NYG, Philly, Det, GB, TB, Atl, N.O, Az, or more than half of the teams in the NFC), it makes the decision even easier. How did going WR/WR work out? Well, five of your top 10 overall in ADP hit the top 10 four months later in December, and 8 of your top 15, with only Dez, and Alshon completely flopping (due to injury) and Cobb and Hilton disappointing (also due to injuries).
What you should do:
Considering these major issues going RB/RB in rounds 1 and 2 makes zero sense, far too much risk is carried by the action, however taking a RB may be advisable depending upon whom is actually available. If you look at early top 10's you can already sniff out a rat with multiple players. Ranked #3 to #9 depending upon which source you want to use, Freeman looks like fools gold to me. There's no arguing that he was outstanding in the first half of the season, but as teams game planned against him, and as the weakened already sub-par Atlanta OL began to deal with injuries and Freeman himself got dinged up, his numbers plummeted. That's not why I'm not buying in 2016 though, I'm not buying because Tevin Coleman should be a full go, he was Kyle's draftee and tabbed to be the starter before he got hurt in week 1, and Freeman's C.V. is that of a day 2 running back with solid if unspectacular skills. Why on earth would you pay elite franchise RB cost for a RB who was a mediocrity in college, and did little as a rookie to boot, and plays for a middling team?
Quite simply if you are dead set on drafting a a RB with one of your two top 24 picks take a look at the prospects at the position and look for these qualities: 1.) Bell Cow Status 2. Quality passing game and OL 3. Proven track record 4. Strong tradition of health and/or high productivity with a significant talent as the handcuff (think Jerick McKinnon to Adrian Peterson, or DeAngelo Williams to Leveon Bell, Karlos Williams to LeSean McCoy, Gio Bernard to Jeremy Hill etc), 5. is the passing down back/has quality hands that the OC designs plays to utilize (imagine Alfred Morris, then try to picture the exact opposite, and there you go).
What RB's fit all or most of these requirements:
Leveon Bell
Adrian Peterson
Todd Gurley
Jamal Charles
Any others?
5. LeSean McCoy
Any shockers who could go top 10 in 2017 based on what they do next fall?
6. David Johnson (actually if he gets multiple starts this post season he'll likely go in round 2 or late round 1 next year) 7. Jeremy Langford-If Gase leaves it's a problem, however the offense still features a QB with Franchise Arm talent, and a #1 Franchise WR and another top draft pick this spring, he could easily finish top 12 in productivity, if you doubt me, note his #'s as a starter after being drafted on day 3 last spring: 3 starts, 366 total yards, 13 catches, and 4 TD's (and that includes a stinker against the vicious Denver Run D (42 total yards, 1 TD).
8. Dion Lewis-Do you think Bill Belicheck didn't notice how adversely Lewis' loss impacted the Patriots? Sure there were injuries everywhere else too, but the decline began the moment Lewis went down.
Preseason Homework:
Players who won't be in anyone's top 10, but could surprise, and you should have an inkling by the end of of the preseason.
9. Ameer Abdullah-A supreme talent with fumbling and size issues
10. Matt Jones-Did he stink, or was it the injuries at Center and Left Guard that gutted the OL that made him look so awful after September?
11. Bilal Powell-It was Powell, and not 1,000 yard back Ivory who was the key down the stretch for the Jets? Watch closely to see if the Jets hand the starting gig to Powell, unlike Ivory, he's dynamite in the passing game.
12. Duke Johnson-He has incredible talent, but the Browns seem unwilling to use him as anything other than a passing 3rd down and change of pace back.
Bonus Long Shot
13. Khiry Robinson-Has looked like a monster in spot starts and mop up duty/injury coverage for the saints the past few years, broke his leg in October and was forgotten but he'll be a free agent, and if he gets a starting gig, he'll be a sneaky value pick in the double digit rounds.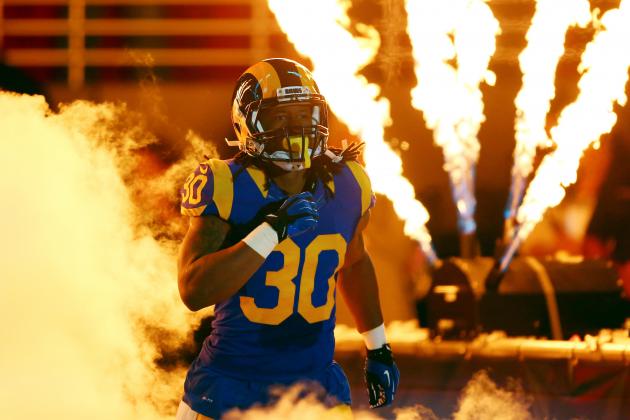 My Plan:
My plan is pretty simple, next year if I land a top half of round 1 pick the only RB's I'll consider using my pick on will be Bell, Gurley, and Charles, Gurley is a top 5 RB even w/the horrible Rams offense around him, Bell because he's Bell and has a legit handcuff, and Charles because he's Charles and has a pair of reasonable handcuff's. No RB's other than those 3 are worth picks in the first round, there are simply too many flaws and question marks to justify taking a RB over a more secure proposition in Gronk, Antonio Bryant, Julio Jones, Dez Bryant (I know, but it's the single solitary year he's flat lined), Beckham Jr, Nuke Hopkins round 2 you have to way your options and relative risk, are you aiming for a high floor, or a high ceiling? High Ceiling, you target David Johnson, Thomas Rawls (if Lynch is gone), consider Doug Martin, high floor, you need to hunt for another strategy game to play because fantasy isn't for you (never use top 25 picks on high floor guys, you don't win titles by aiming low, you win titles by maximizing value, managing your team well, and getting a bit of luck along the way).
Why should you avoid RB's early? The answer is fairly obvious, but consistently forgotten or glossed over in recent years due to the success of run first teams like the Niners, and the Seahawks, Running Backs even before this armageddon year (8 of the preseason top 20 RB's were lost for at least half or more of the fantasy season), are simply not worth the cost and risk. For those that believe that 2015 was an outlier year in terms of running back injuries (and it was) and things will go back to normal in the future, consider, 80% of the top 10 ranked RB's in August failed to reach even 10th overal, fair enough, outlier year, go back however to 2014, and the number was 50%, 2013? 50%, in earlier years going back a decade the #'s were quite consistent, year in and year out at least 4, and usually 5-7 of the top 12 ranked RB's failed to reach the top 12 by the end of the fantasy season. The evidence suggests that in non-outlier years, the chances that your first round/second round RB selection(s) will actually meet or exceed expectations are no better than a coin flip. Do you really want to run your fantasy drafts/teams as if the best odds you have of succeeding are no better than a coin toss? I sure as hell don't, especially in the experts leagues I play in.