Combing through my memories, and looking at the match reports is an interesting way to get a read on Tab's teams/evolution as a coach. Bear in mind two factors with the 2015 and 2017 U-20 cycles: in 2015 we had two major issues: One of our best forward options at the time wasn't released for basically b.s. reasons, and #2 the team lost virtually every forward to injury early in the tournament, which explains why the attack suffered so much after looking strong early on. In 2017 personally I would argue that probably 4-5 of our best 6-7 players in this cycle were not released from their teams for the tournament including McKennine, Wright, Taitague, the dude on Fiorentina whose name escapes me, oh Josh Perez, and the dude in Spain with Villareal, Akale. Maybe there were others. The fact that the team played well and made a strong deep run in the tournament despite the absence of just about every gifted attacker in the system in this age group, as well as McKennie whose already starting for Schalke is stunning.
A look back…
2015
Group stage:
2-1 vs Myanmar
Fall behind early to Mynamar. Claw back to victory. Can't express how shocked everyone was to see Myanmar slot that ball into the corner of the net, i think off of a corner in the opening 10 minutes.
Verdict: Poor. Mynamar played nearly even w/us in terms of generating chances, then was blown out of the water against Ukraine and New Zealand. Possession was 58-42 for us.
4-0 over New Zealand
Dominant performance from start to finish
Verdict: Superb performance, dominated play, outshooting them 30-11, and chancing them 11-2, possession was even.
1-4 vs Ukraine
Demolished in the scoreline.
Verdict: Not as bad as it looked with Ukraine outshooting us 16-13, and out chancing us 6-2. While we were never in the game, it wasn't quite as bad as the scoreline suggests but Ukraine also had a possession advantage of 54-46.
Round of 16:
1-0 vs Colombia
40-60
Verdict: We were outplayed but won through grit. Outshot 24-8, though Colombia managed to block ELEVEN of our shots, outchanced 3-2, we played butt squirming defense, and showed a lot of mental toughness with Steffen coming up huge in saving a penalty late on. Colombia dominated possesion 60-40.
Quarterfinals:
0-0 vs Serbia losing on Penalties AET.
Verdict: I had forgotten how much agony I felt 2 years and a couple of months ago when Hungary managed to give up an equalizer with 1 or 2 minutes left in injury time because I was nearly positive we could beat Hungary despite all the injuries to our attacking players but not so much Serbia. Serbia had the better of the game, outshooting us 19-8 and outchancing us 5-2, but we held on for extra time, and held on till penalties before falling. Serbia held a 53-47 advantage in possession.
Verdict on tournament:
Positives: Team had a ton of mental toughness, and came within a missed penalty by its starting forward of making the semifinals.
Negatives: We were outplayed in 3 of 5 matches, and only outplayed one opponent clearly, throughout the tournament (New Zealand). Colombia, Serbia and the Ukraine just looked fundamentally better throughout, and it was only grit and toughness that saw us through to the quarters and nearly the semi's, it wasn't beautiful or dominating soccer.
2017 U-20 World Cup
Group Stage
3-3 vs Ecuador:
A tale of two halves. Ecuador played us off the field for much of the first half, but after the first half hour we stormed back, and won it on the last kick of the game.
Verdict: While Colombia outshot us by a ratio of nearly 2-1, we created the same chances more or less. Superb comeback showcasing excellent mental toughness again. We also held a 61-39 advantage in possession.
1-0 vs Senegal:
Game was fairly even, but the US finished it's chance, and Senegal never did.
Verdict: Again outshot, this time 15-8, but both sides generated a similar amount of legit chances to score with the US finishing and then holding on while Senegal failed to finish. Senegal had a very slight advantage in possession.
1-1 vs Saudi Arabia
Gave up late goal to the Saudi's which I forgot all about. This was a game that featured a similar lack of urgency as yesterday's loss to Colombia, but without the devastating consequences, as we got the early goal and held on until late.
Verdict: Statisitically the Saudi's played a touch better than we did, but it's not altogether surprising considering they were chasing the game and we were already through. Possession was slightly to the advantage of Saudi Arabia.
Round of 16:
6-0 vs New Zealand
Absolute thrashing.
Verdict: Dominant performance against an over-matched opponent. Out shot them 19-16, and out-chanced them 10-0 and held a 60-40 possession advantage.
Quarterfinals:
1-2 A.E.T vs Venezuela
Colombia dominated the game, but we were five minutes from forcing penalties when Colombia found it's winner.
Verdict: Thoroughly outplayed, outshot 26-7, and outchanced 8-2. Colombia dominated possession as well 57-43.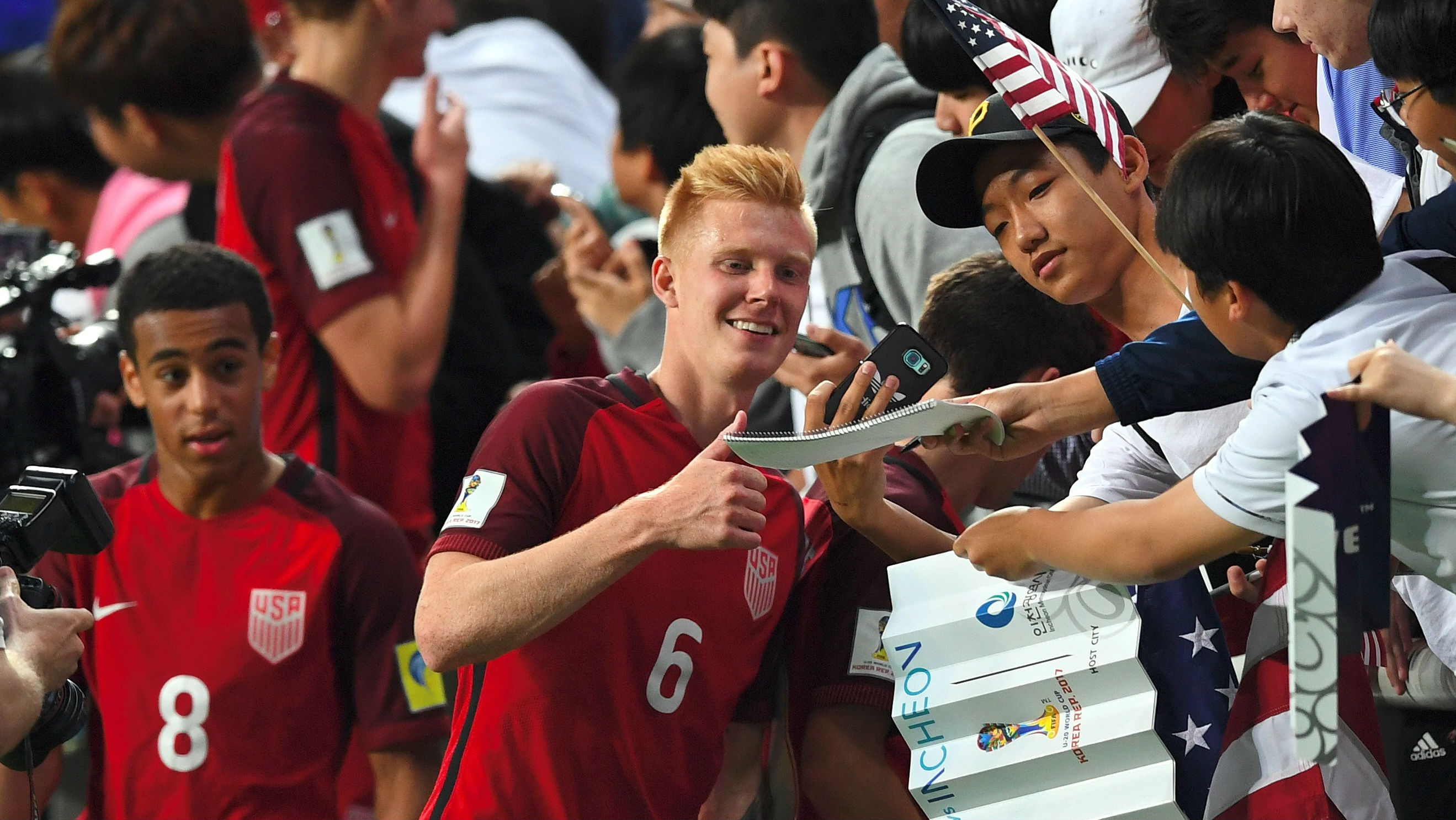 2013 U-20 World Cup Exemption:
I haven't discussed the 2013 tournament due to the paucity of talent in that cycle and the epic group of death nature of the draw (worst draw ever for a USMNT) which resulted in a truly horrific performance and an inexplicable draw with the eventual tournament champs during the group stage. If you desire brief recap, we drew perennial powerhouses Spain, Ghana, and France. France, semifinalists in 2011 ended up winning the tournament behind Pogba and some other ubertalent as well, Ghana, 2009 tournament winners, finished as bronze third place finishers in 2013, and Spain was surprisingly knocked out in the quarters AET against eventual runner ups Uruguay. The US, and maybe no team ever, has been drawn into a group so accomplished going in, and so accomplished during the tournament. The fact that we we actually managed to get 1 result in the group stage is pretty shocking in retrospect, and really at the time as well.
Some facts and figures:
*In my view in the ten games across these two tournaments we dominated/outplayed our opponents three times (Myanmar, and New Zealand twice), played relatively even matches with our opponents three times (Ecuador, Senegal, and Saudi Arabia) and were clearly outplayed four times (Ukraine, Colombia, Serbia, Venezuela). On the positive side we only lost in regulation once in 10 World Cup Games (though of course we only won in regulation four times in ten games), finishing with a regulation record of 4 wins, 1 loss, and 5 draws.
*Tab's teams did a consistently good job of maintaining possession in both tournaments, dominating the statistic three times (against Myanmar, Ecuador, and New Zealand), playing fairly even w/possession four times (New Zealand, Serbia, Senegal, and Saudi Arabia) and getting dominated in possession only three times (against the Ukraine, Colombia, and Venezuela).
Final Thoughts and Takeaways
Concacaf qualifying:
It's a justifiably concerning subject these days and for nearly a decade, hasn't been a problem for Tab: finishing runner up after losing to Mexico in '13, in '15 we didn't make the final but did qualify via the semi-final round, and in '17 we actually won the qualifying tournament. This is certainly promising considering our failures in 2011, 2012, 2013, and 2016 in U-17, U-20, and U-23 qualification campaigns, and the sheer horror of crashing out of the World Cup itself.
Mental Toughness:
Perhaps the single most disappointing aspect of the performance of the USMNT over the past half decade or so has been the lack of heart, the lack of mental toughness and grit that we've seen on screen, repeatedly since 2011. It may be a cliche in some parts of the sports world, but until relatively recently, it had always been true that to be the USMNT, you were going to have to kill them. Like some megazombie, or the late Jake Lamotta ("You never got me down, Ray"), the US would not quit, would not give up, would not stop fighting until the final whistle, and sometimes not even then. It was a hallmark of the team, that no matter how lacking in technical skills or soccer iq a given iteration of the team was, it would still be a fearsome, mentally tough rabid dog that would not stop trying to bite you until you put it down once and for all. Against Mexico in the Gold Cup Final in 2011 you saw signs of this disappearing, which is why I think Bob was fired (combined with information that Jurgen must have been interested again), under Jurgen early on, things were baffling, with at times the team looking even more like a soft band of overentitled millenials, and then in 2013, and especially the World Cup, the old dog returned (perhaps it was the moment?), that old ferocity returning in a hard fought late win against Ghana, a hard fought comeback against all odds against Portugal (then a choke), a fight back that nearly lead to a draw against Germany, and a classic, siege at the alamo never say die performance against Belgium in the Round of 16. We were the US again, reborn!
Or not, following the cup, the team collapsed back into the inconsistent mess it had been throughout the bulk of 2011 and 2012 and early 2013, and fell into the worst form we'd seen since the summer of 2001. Hence the firing, and now, we are left with the pieces of yet another epic, no heart, choke job.
Take a peak at Tab's track record with the U-20 kids, and you see that old dog, rising from some zombie pet cemetary again, meaner, tougher, and more resilient then ever. In 2013 we came back and beat the eventual champs, and while the play was nowhere near the quality of a similar heroic draw for the senior team 7 years earlier against Italy, it was mentally tough and heroic. Two years later despite a barrage of injuries, Tab's boys fought off a superior Colombian side to make the quarterfinals, and then came within a missed penalty of defeating the eventual champs in Serbia in extra time. Four months ago we saw that ferocity yet again, with Tab's U-20's coming back from 2-0 down to draw Ecuador on the last kick of their group stage opener, we saw them hold off a seemingly spectacular Senegal side 1-0, and while they'd go on to lose to a clearly superior, and more rested Venezuela side in the quarterfinals, they held them scoreless through 115 minutes before finally succumbing to the onslaught.
What do these three teams have in common? All three played over their heads repeatedly against superior competition, and with only a handful of exceptions (the kids got stomped by Spain and Ghana in '13, stomped by Ukraine in '15, not stomped by anyone in '17), either beat superior competition, played them to a regulation draw, or went down in defeat fighting to the last man.
This is why I find Tab so difficult as a coach. On the one hand, i hate the way it seems as if personality issues can lead to superior players not getting call ups, to the detriment of the team. I also hate that in 2013, 2015, and 2017 we started all three cups poorly (curb stomped in '13, early goal and poor effort in victory against Myanmar, fell down 2-0 to Ecuador before the halftime whistle blew), in all 3 cases, the early performance was nothing at all like what we'd see at the rest of the cup, but still, it has happened three times, doesn't seem like a coincidence anymore. I also feel at times as if he's hopelessly wrong on tactics, and lineups, and game to game, at times, the only consistent things are the inconsistency in all things save the never say die attitude of the players (which I love). While others have firmly been in a hate, or love Tab camp, I've bounced back and forth between hate, grudging acceptance, and thrilled support.
I wanted an out of the box hire, we're not getting it, at least for now. That's a problem to me, as much as I appreciate the results we've had under Tab, I wanted the Fed to shake things up, and reboot, kicking the the curb the old boys network, and rebuilding with innovative, cutting edge minds. That is absolutely not happening, at least now, and that is a huge loss considering the massage changes that are needed (in very particular areas). I like what Tab has done with the kids and I genuinely fear that being moved to head coach will hurt both youth development, by his absence, and the senior team, by his not being the right man for the job, and the right message to the players, and the system overall. Time will tell.