SPECIAL Q&A PICTORIAL FEATURE: NSG COVER GIRL– JENNIFER SWIFT
Hair Color: Black 
Eye Color: Brown/green
Twitter: Jennifer_Swift 
Offical Site: JenniferSwift.net
PhotoCredits: Evolve Photography
Meet Jennifer: 
My names Jennifer Swift. I have a Pomeranian and his name is Chewie. I live in Huntington Beach, California. I didn't always live in "Surf City" Growing up I didn't have the easiest life or live in the best part of town. It's been my goal to help other kids from the hood" realize that they can get out and make something of themselves.
Loves:
I love my family and friends. My puppy Chewie. Going to the beach. Sunsets. I love sports. Going to concerts and MMA has been a love of mine for 6 years now.
QUESTION & ANSWER with Jennifer 
*Tell our readers something about yourself they would not have expected?
This may sound weird, but I didn't get my license until I was in my 20's.
*What motivates you?
Being able to help others and make a difference in the world motivates me. My family has motivated me to become the best I can be.
*Do you find it hard to balance your career with your personal life?
I wouldn't say it's hard but at times it can defiantly be challenging. You always have to watch your back in this industry. One thing I have had to deal with is jealousy.
*Name the one thing you can't live without.
I can't live without my phone right now.
*What kind of girl were you growing up?
Growing up I was always trying to do whatever I could to help my family. I helped raise my younger sister and brother, which made me grow up pretty fast. I wouldn't change the way I grew up. It molded me and helped make who I am today.
*What has changed since becoming a model and public figure?
I have a bigger voice now and can help so many more people. I have fans now and such amazing people who follow me and support me everyday. Love you #JSwiftNation
*Name the one thing you would love to see happen in this world.
I would love to see more people helping each other and looking out for one another. I hate to see people suffer and go through pain. It's always about paying it forward.
*If you could go anywhere in the world, where would you go?
I want to travel the world. There are so many places I want to go.
*Whats your favorite sport?
I love MMA. Being at a live event or watching it on TV. It's a sport you can always get into.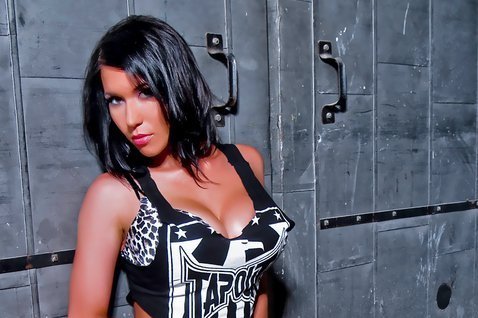 CREDITS/INFO:
Photography: Evolve

Edited by Josh Pacheco
For Booking Info: JenniferSwift.net 
Official Site:    JenniferSwift.net 
If your are interested in becoming a NSG Cover Girl contact us at:
E-mail: TheNewSportsGuru@gmail.com
Twitter: @SportsCast_THN
Facebook: Facebook.com/thenewsportsguru
Check out ALL the NSG Cover Girls & International