Ezekiel Elliott has been suspended for six games, the NFL announced Friday. The NFL's leading rusher as a rookie in 2016, this will surely anger Cowboys fans, have an impact on Las Vegas over/unders, and put Roger Goodell in the firing line for criticism.
#Cowboys RB Zeke Elliott is suspended 6 games for a violation of the @NFL personal conduct policy. He has 3 days to appeal.

— Ian Rapoport (@RapSheet) August 11, 2017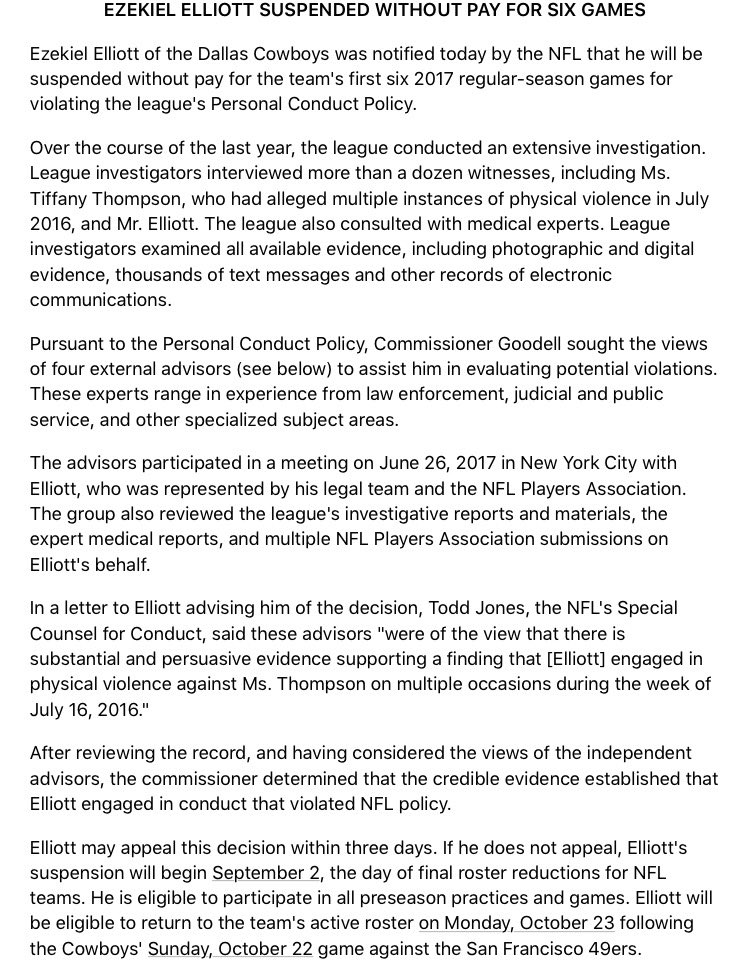 Elliott will also take a hit financially.
#Cowboys RB Ezekiel Elliott's $8M+ guaranteed is now voided as soon as he misses time on the field.

— Ian Rapoport (@RapSheet) August 11, 2017
Elliott is accused of five incidents of domestic violence over a six-day period in July 2016. Last Thursday night, appearing in the NBC booth during the Hall of Fame game, Cowboys owner Jerry Jones suggested that a suspension could be imposed for unspecified incidents other than the domestic violence claim.
In March, Elliott was videotaped pulling a woman's top down at a St. Patrick's Day parade. More recently, he allegedly broke a DJ's nose at a club in Dallas.
There's also a possibility that Elliott will challenge the suspension in court, seeking a temporary injunction that would block the suspension until the litigation is resolved. While such lawsuits rarely succeed, Elliott could be able to cobble together enough of a case to persuade a judge to let him play while the court system considers the merits of his claims.
With the Cowboys bye coming in week 6, Elliott will not be eligible to return until Week 8 for an October 29th game against Washington.