There were plenty fantasy fireworks around the league this weekend.  Thankfully the fireworks didn't consist of players that nobody rostered (which is the worst). The stars were shining bright this weekend and many enjoyed or suffered the wrath of guys like Gronk, Big Ben, Andrew Luck, Manny Sanders, Arian Foster and a few others. There is no greater feeling than sitting back on a Sunday and watching your fantasy player rack up points.  Hopefully the powers that be are with you this weekend and as well and if you missed out then hopefully you can get in on the party. These be weeks are a killer though so plan accordingly…..
SAINTS vs PANTHERS
Huge NFC South matchup that will help determine the division leader. My BOOM player for this game is Cam Newton. I definitely believe Drew will ball, but Cam is starting to come around and Thursday night might kick things off. He looks healthier and the Saints defense isn't intimidating for this elite talent QB. 
My BUST player for this game is Deangelo Williams.  He will get the start but I don't think it matter much in this rb platoon he shares with Jonathan Stewart.
JAGUARS vs BENGALS
The Jags are horrible and this is a perfect practice type game for the Bengals (if they come ready and focused). My BOOM player in this game is Andy Dalton. Dalton should be able to flourish against this bottom ranked pass defense at home where he tends to play better in most cases. 
My BUST player for this game is Blake Bortles. Hopefully you don't have to use him due to the bloated bye week schedule. The Bengals will force the rookie into many mistakes.
BUCS vs BROWNS
The Bucs could really use some good fortune and a win but I doubt it happens this week. My BOOM player for this game is Ben Tate. The Browns are a run heavy team led by Tate and the Bucs are terrible versus the run. 
My BUST for this game is Vincent Jackson. He won't be a complete dud, but having to square off with Joe Haden combined with the struggling play of Glennon will make for a long day.
CARDINALS vs COWBOYS
This game might be even larger for the Cowboys being that they loss Monday night. My BOOM player for this game is DeMarco Murray (as usual) but I will include Michael Floyd too. Floyd was practically a ghost last week but he will have plenty opportunities against the Cowboys suspect pass defense that allowed Desean Jackson to get deep a few times. 
My BUST player for this game is Tony Romo.  Romo has a back contusion which will greatly hinder his playmaking ability "if" he plays. They will lean on the ground game even more which takes away from his stats.
EAGLES vs TEXANS
The Texans are very capable of winning this game because of the struggles by QB Nick Foles so we shall see. My BOOM player for this game is Arian Foster. Foster has outstanding and almost as dominant as DeMarco Murray yet it has been a bit under the radar. The Eagles are opportunistic on defense but not very sound. Foster should keep things rolling this weekend.
My BUST player for this game is LeSean McCoy. Shady will have a decent day but until teams start to respect Foles/Maclin more, he will have his hands full every time he has the ball.
JETS vs CHIEFS
 I'm not sure what direction the Jets are headed but hoepfully they atleast put up a fight against the Chiefs. My BOOM player for this game is Alex Smith. It isn't often he gets the "boom" but he is very capable of having success against the Jets secondary. 
My BUST player for this game is Mike Vick (and Jamaal Charles). Vick looks like a guy that is either almost done or tired of being in New York but either way it is not good. Charles should be okay because they feature him in the passing game but his rushing totals will be down a bit against that stingy Jets D-line.
CHARGERS vs DOLPHINS
The Chargers have had a brutal skid of games lately and this Sunday gets no easier but they need a win. My BOOM player for this game is Phillip Rivers. I believe this game is a bit of a defensive struggle, but Rivers quick passing attack will help to negate some of the Dolphins pass rush. 
My BUST player for this game is Brandon Oliver. The Dolphins are solid against the run especially at home so I don't see Oliver having a huge day.
WASHINGTON vs VIKINGS
This game will get interesting if RG3 is cleared to play but the Vikings won't be an easy task. My BOOM player for this game is Teddy Bridgewater. Teddy seems to play a little better at home and I think he finds a few huge plays against Washington. 
My BUST player for this game is Pierre Garcon. Garcon has been almost invisible with the emergence of Desean Jackson in the passing game. I think that trend continues against this underrated Vikings defense.
RAMS vs 49ERS
Sadly for the Rams there season is spiraling down the tube and now they have to deal with a 49ers team fesh off a bye. My BOOM player for this game is Colin Kaepernick. Kaep will most likely do exactly what he did to them a few weeks ago when he eclipsed his career high in passing of over 300yds. 
My BUST player for this game is Austin Davis. Rams top wideout Brian Quick is down so Davis is quickly running out of weapons (see what I did there). Plus he loss LT Jake Long for the year. It won't be a good day for Davis.
BRONCOS vs PATRIOTS
This might be the biggest game of the NFL Sunday as Manning vs Brady is always classic. Many guys can go off in this game but my main guy would have to be Rob Gronkowski. We all know Manning and Brady will be great but outside of those guys I think Gronk might have the biggest day. Now that he is healthy, he is quickly getting back to the absolute mismatch he is accustomed to being. Talib was torched by Jimmy Graham last season and I think Gronk poses similar problems to the Broncos secondary. 
My BUST player for this game would have to be Julian Edelman. Ever since Gronk has become more healthy combined with LaFell's acclimation to the offense Edelman simply hasn't been featured as much.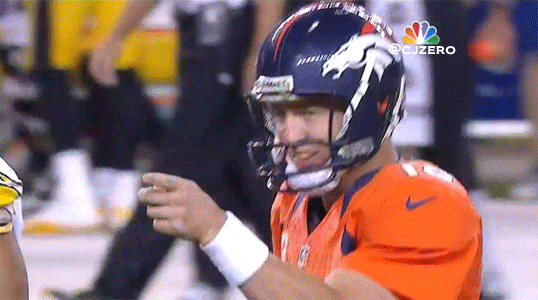 RAIDERS vs SEAHAWKS
The Raiders are going to one of the worst places to try getting a win and Seattle is taking no prisoners right now. My BOOM player for this game is Russell Wilson. He will have his way with the Raiders awful defense, (as will Lynch). 
My BUST player for this game is Derek Carr. QB's don't play well in Seattle so this will be a horrific experience for the rookie qb.
RAVENS vs STEELERS
The low scoring brawls between these two get a little boring so hopefully they put some points on the board. My BOOM player for this game is Antonio Brown. Brown is essentially matchup proof and should put on a show against a Ravens secondary that will be without Jimmy Smith. 
My BUST player for this game is Torrey Smith. Torrey rarely plays well against the Steelers seemingly and as the second option this might not be his night. Banking on big plays is always a crapshoot.
COLTS vs GIANTS
The intriguing aspect of this game will be if Eli can muster some big plays against this Colts defense that might be missing CB Vontae Davis. My BOOM player for this game is Andrew Luck (plus TY Hilton). This combo has been lethal all year and should be able to get going against this 25th ranked pass defense. 
My BUST player for this game is Andre Williams. Andre is just a battering ram rb that lacks agility. That doesn't bode well when you have an average offensive line.